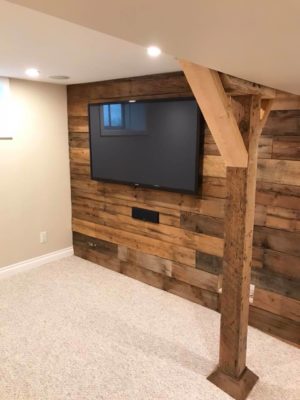 We all want a home that looks beautiful, offers comfort and functionality, and when it's time to sell, we want as much property value as we can get. There are several things you can do to maximize your home's property value and put more money in your pocket. From simply tidying up around the house, to full-scale home remodeling, here are some great ideas to add value to your property.
Renovations
You may not need or want a total home remodel, in many cases, upgrading certain parts of your home can make a very big impact on your property value. There are the obvious choices to consider, like upgrading the kitchen or taking care of the bathrooms. These are said to be the areas of the home that can bring back the most value when renovated properly.
If your basement is unfinished or finished poorly, it can bring down the value of your home. Not only can a Winnipeg basement renovation bring that value back, but it can also add extra living space that a homebuyer may find useful.
Think about what most homebuyers will want to see in a basement and take it from there. Put your focus into function, style, and uniqueness for a basement renovation that adds the most value to your property.
A freshly renovated kitchen or bathroom should appeal to as many people as possible to get top-dollar back. Remember, this is an investment in your home so you want to make it as easy as possible on your time and your budget while making a big splash to get the biggest return on your money. It could be as simple as adding a colorful backsplash, painting or replacing cabinets, or even a new floor.
Clean In and Around the House
Because first impressions matter, make sure your home is fit to present to potential home buyers with a thorough cleaning. Start with the inside of your home, putting everything in its place and giving the entire living space a good cleaning. That includes dusting, mopping, and washing the kitchen and bathrooms.
By doing this regularly while getting ready to sell your home, you can stay on top of any maintenance issues that arise. You will also be able to keep dirt and unnecessary junk to buildup, making it easier to clean as needed. You will give homebuyers the best impression of your home as a healthy and well-kept place to live.
Curb Appeal: Exterior Cleaning and Maintenance
The cleaning is then taken outside by picking up any loose trash, leaves, or personal items. Then you can fine-tune your garden with fresh grass trimming, hearty flowers, and lighting. This is also an opportunity to make repairs to the structure of your home. Fill in any wall cracks, and repave the driveway that has been neglected for too long. If it looks beautiful from across the street, you have done your job well to add curb appeal and property value.