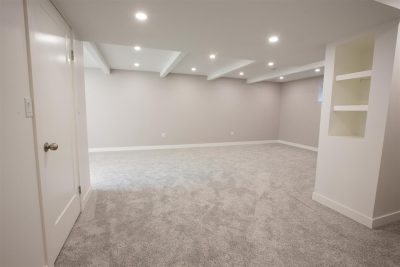 Many homeowners suffer from the same affliction, a dark and dreary basement. It's a space that is often left unfinished and unused because it's so unwelcoming. But there are a number of ways to make the basement more enjoyable and bright for the whole family. Try these simple and inexpensive ideas to turn your dull basement into your favourite space.
Planning Comes First
Begin by thinking about how you want to utilize your basement. Do you want a fun and bustling space for everyone to enjoy, or would you like it to be a quiet, private bedroom? Is your basement to be a home office or a comfortable place to watch movies? Whatever your plan is, it will determine how you work with the basement to get the most out of it. And remember we at https://www.basement-pros.ca are happy to discuss ideas with you to help make your dreams come true.
Experiment with Paint Colours
If you don't have walls put up in your basement, you can still paint the concrete but make sure you thoroughly clean all surfaces and fill in any cracks you find. You will then need to prime before adding colour.
By choosing lighter colour shades, like white or yellow, you can not only hide many of the bumps and lines in the concrete, but you can also brighten up the entire basement.
You may not have a ceiling in place in your unfinished basement but you can still paint the exposed beams if that is your preference. A light shade on the ceiling can give the illusion of more headroom.
By painting the entire basement, floor, walls, and ceiling the same colour, the basement will appear larger.
Choose the Right Lighting
Most basements do not have access to much natural light. That means it's up to you to pour the right lighting into the space, making it bright and comfortable.
Add layers of lighting to give each area of the basement its own brightness and feel based on how you planned out its use. Ambient lighting combined with accent lights and localized task lighting can fill the space with exactly what you need.
Recessed lighting is excellent for the basement as it does not protrude from the ceiling to take up valuable space while providing the ambient light you're looking for without any shadows. When installing the pot lights, you can give the basement an even layer of light by keeping them equidistant from each other.
For a simpler approach, try track lighting along the perimeter of the basement and then add floor lamps in strategic areas along with table lamps to serve as task lighting.
Flooring
You may paint your floor or finish it with carpeting or another flooring surface. In either case, make it come alive with area rugs. Give the floor some color for a vibrant effect. Make sure you choose waterproof options as basement floors can feel moist.
If you have doubts about the process of brightening up that dreary space, speak to a reno specialist to expand on these and other ideas.