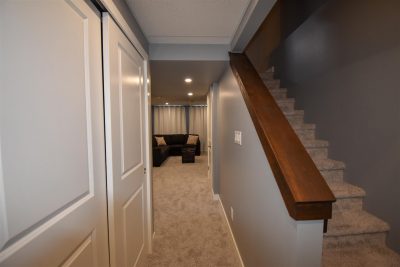 An unfinished basement may seem like a waste of space but it doesn't have to be. There are many ways to take that dreary, ugly basement from the most unpleasant space in your home to the one you want to spend the most time in. Loving your basement doesn't have to be that hard. Here are some great ideas you can think about to turn your unfinished basement into something amazing.
Add Comfortable Flooring
While an unfinished basement is likely to have an ugly concrete floor, that doesn't mean you need to live with that. Short of installing tiles, hardwood floors, or laminate, you can make your basement floor comfortable and attractive simply by adding stylish area rugs or foam mats. Use your imagination and make it pop with color. After all, it can be dull down there, so some bright colors can make it a happy space.
Make sure your basement floors are free of moisture before you lay anything down. You can use a dehumidifier to extract much of the moisture but you may also hire someone that's an expert like Basement Pros to make sure the right choices get made for your space.
Add Storage Space
The basement is the perfect place to give you the storage space that might be lacking upstairs. You can add shelving and hanging rods at a very reasonable cost to turn the basement into a pantry, a place for seasonal items like winter clothing, or even sports equipment or collectibles.
Create a Fitness Centre
If you have an unfinished basement, you have the space you need to stay fit and save money on those gym memberships. There is likely plenty of room to add some gym equipment like a treadmill, elliptical, or weights. Even if you don't like using those bulky machines, the basement offers the perfect space to lay down some mats for stretching exercises so you can always stay motivated knowing that fitness is just downstairs.
Home Entertainment
There is nothing like a home theater set up just the way you like it to enjoy your favourite movies and television shows with family and friends. You can make it comfortable simply by adding a sofa with blankets and a large screen display, or you can build it up with a custom design that has all the bells and whistles, like surround sound and a snack station.
Better Lighting
Lighting in an unfinished basement often includes a couple of dim lightbulbs. But by adding more lights with the help of floor lamps in different areas of the basement, you can make the atmosphere warm and inviting.
Painting the Walls
Painting your concrete wall in a bright and warm color pattern can really change the space. Prior to painting, the walls need to be thoroughly scrubbed clean, sealed of any cracks, and primed.
So if you are thinking about how to best use your basement, try any of these ideas or go with a major reno to make it the jewel of your home.